ALGAEFREE model ALPHA is ideal for sea chest, strainer, plate cooler, heat exchangers, fresh water tanks in SHIPS.
ALGAEFREE model MARINE is ideal for for ships and boats hull.
Some of our satisfied customers:
.





ALGAEFREE model

ALPHA 4-ways and ALPHA 2-ways is suitable

for all types of water (either salt or fresh water). Usable in the food production,

vegetable and vine irrigation ponds

, water reservoir, mining pits, heat exchanger,

other industries,

lakes, swimming pools, shipping and fish farming and aqua culture applications. Kills bacteria, bio film and all unwanted alga.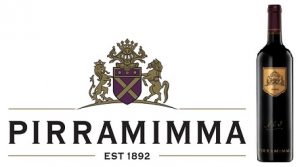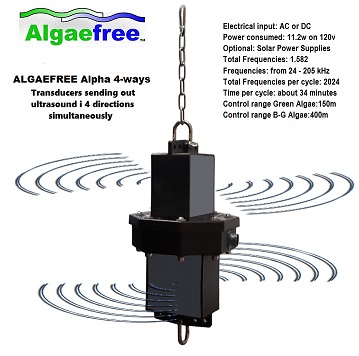 .
A significant example of the successful use of the ALPHA 4-ways ultrasound system is at GLENCORE Nickel Company in NORWAY. There was a huge problem with  mussels growing inside water cooling pipes and heat exchangers. The installation of several   ALGAEFREE ALPHA 4-ways ultrasound system units quickly resulted in the disappearance of all the mussel growth and the total elimination of the problem.

The  article below, published in Nickel News in November 2018 clearly shows that Glencore confirms that ALPHA systems from ALGAEFREE totally prevent bacteria, biofilm, mussel growth and the system also provides effective algae control; in fact it provides total elimination!
All problems solved without the need for the use of dangerous chemicals!  
Other benefits have been (i) a cost saving of $125,000 AUD each year due to savings on chemicals and (ii) elimination of significant amounts of maintenance work and costs.

(Published in Nickel News November 2018)
.

.
ALPHA 4-ways Ultrasound System
prevents algae growth on fish nets in salmon farming cages
ALPHA TEST FOR


www.salmar.no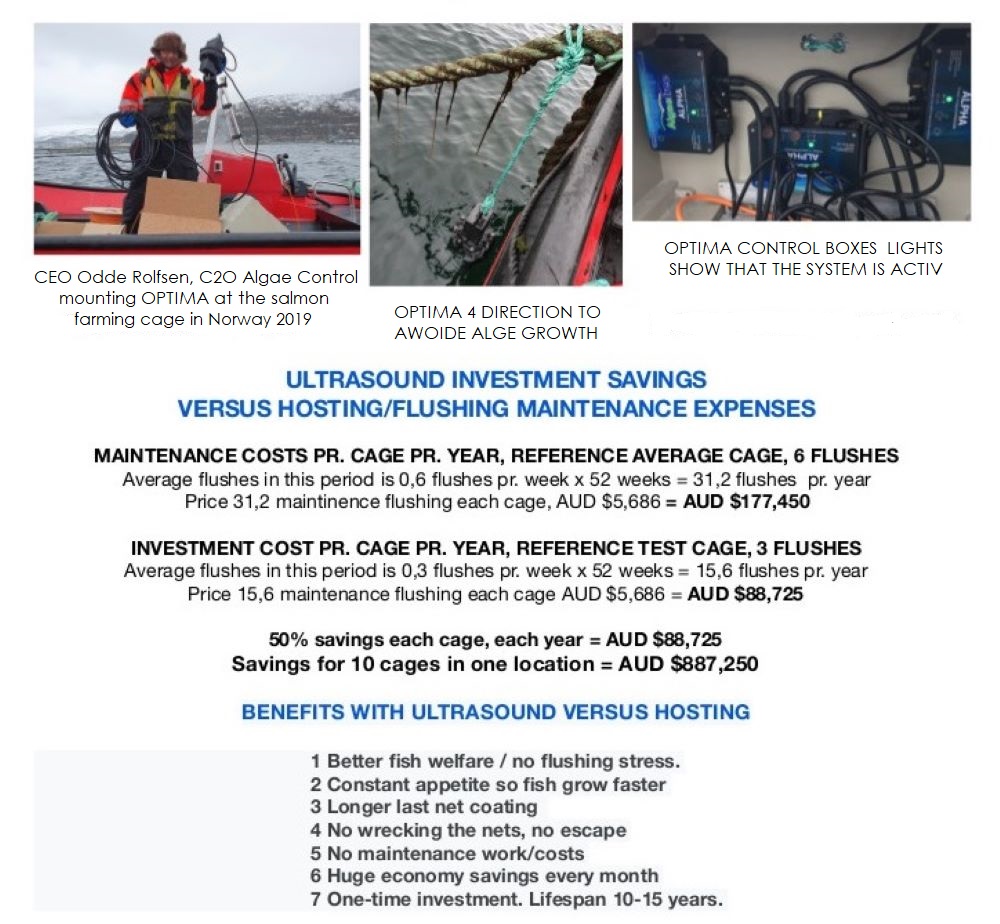 RESULT BY GRAPHICS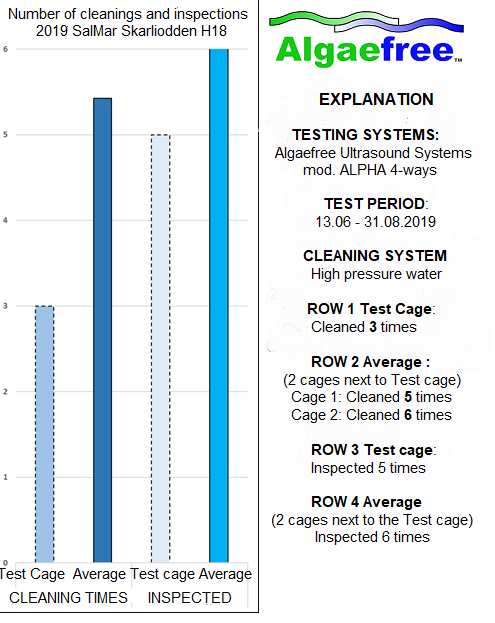 Department of Agriculture, Fisheries and Forestry, Queensland
https://www.dropbox.com/s/cw7ytalzv2v5yew/2-Biofouling-control-aerators-options-review.pdf?dl=0


.
ALPHA SYSTEM REFERENCES/TESTIMONIALS AND RESULTS FOR AUSTRALIAN BAY LOBSTER FARMING APPLICATIONI, NEW SOUTH WALES, AUSTRALIA
TEST REPORT NO 1

Australian Bay Lobster Producers Limited
(ABN 74 092 822 485) 9484 Tweed Valley Way
www.australianbaylobster.com.au

RE: ALPHA ULTRASOUND TRIAL – REPORT 1
ABLP Ltd cultures Moreton Bay Bugs at its' marine production facility located at Chinderah NSW. The facility uses the latest in membrane filtration technology and indoor recirculation aquaculture systems to ensure stringent standards in water quality and temperature are maintained through the production process.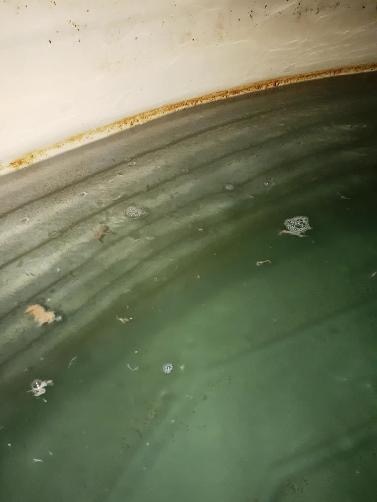 The extent of biofilm development in a culture system is closely related to the systems' feed input and management processes utilized to routinely remove the film. ABLP's nursery systems are in continuous use which hinders routine disinfection (e.g.chlorination) and as such physical scrubbing is employed either by staff or by pool cleaning robots to control fouling. Additionally
system temperatures are maintained at 26 °C, these elevated levels contribute to rapid biofilm development.
This report focusses upon an initial 21 day trial to evaluate the efficiency of an ALPHA 4-ways Ultrasound in its ability to control biofilm development in a seawater storage reservoir, in one of ABLP's nursery systems. The circular reservoir is 3.05m in diameter and constructed from HDPE. Water is continuously recirculated through the reservoir as part of the production process. The photo in Figure 1 was taken prior to the installation of  the ALPHA 4-ways unit to give an indication of biofilm development at the onset of the trial.
Biofouling showed no initial response to the ultrasound installation during the first week. By the beginning of the second week sections of biofilm began to 'flake off' and after approximately 16 days, the reservoir was almost completely clean. Figure 2 shows the ALPHA 4-ways installed centrally within the reservoir, positioned mid-depth. This picture was taken after 21 days of ultrasound treatment. Physical cleaning of the reservoir was not  necessary during the trial period. Under normal circumstances the tank would have been cleaned twice  weekly.
Figure 1: Initial Reservoir Biofilm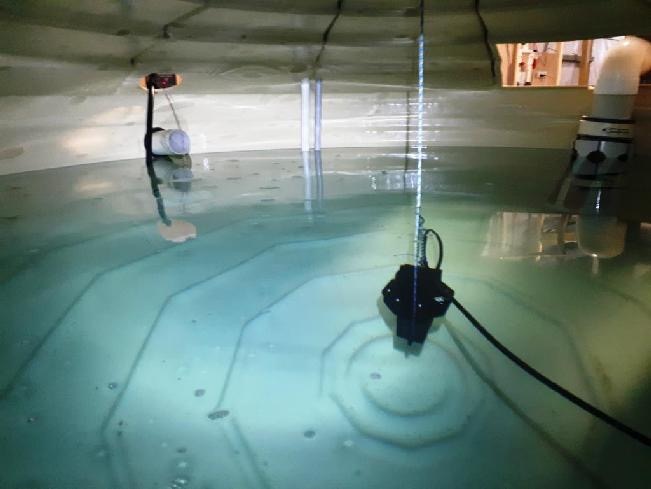 On completion of the trial, the ALPHA 4-ways was removed and within 5 days biofilm began to re-establish, requiring the resumption of normal cleaning practices.
Figure 2: Biofilm Levels After 21 Days Continuous Ultrasound Treatment
COMMENTS AND OBSERVATIONS
ABLP culture systems recirculate oceanic water containing 35-36 ppt dissolved salt. High chloride levels in combination with ambient 26 °C temperatures generates a highly corrosive environment. ABLP specifies that only Bumax 88 metallic fasteners and Duplex steels are to be used in wetted areas. Preferably non-corrodible materials are selected e.g. nylon, plastics and/or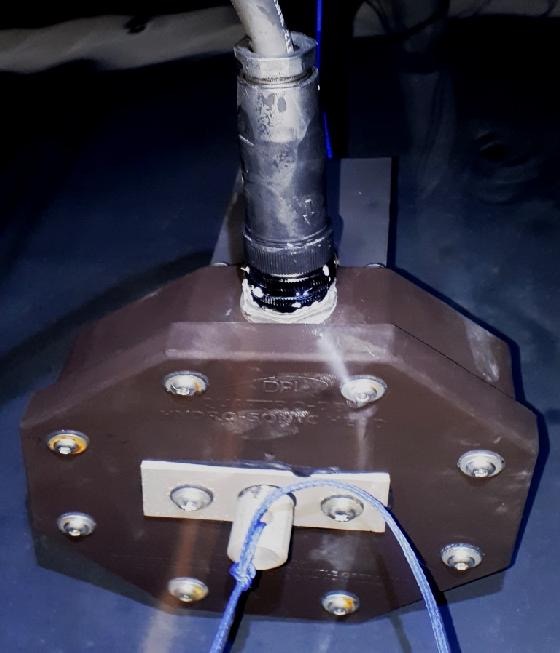 composite products. Figure 3 illustrates developing crevice corrosion on two metallic components on the ALPHA 4-ways ultrasonic head. This corrosion became apparent after only 21 days in use. The electrical connection would likely fail and allow water to penetrate the electrical connections rendering the unit
inoperable. ABLP has a preference for the ultrasonic heads to be supplied with a hard wired 5m long electrical lead and sealed with an immersion rated IP68 gland fitting similar to plug connections should be avoided.
Figure 4. Where possible submerged electrical
Figure 4: Example of IP68 Submersible Cable Gland
Figure 3: Development of Crevice Corrosion After 21 Days
Submersion Seawater
Report and pictures ABLP
.

.
TEST REPORT NO 2 ALPHA 4-ways

Australian Bay Lobster Producers Limited
(ABN 74 092 822 485) 9484 Tweed Valley Way
Chinderah, NSW 2487 PO Box 1934, Kingscliff NSW 2487
www.australianbaylobster.com.au

RE: ALPHA ULTRASOUND HOLDING TANK TRIAL – REPORT 2
ABLP Ltd cultures Moreton Bay Bugs at its' marine production facility located at Chinderah NSW.  The
facility uses the latest in membrane filtration technology and indoor recirculation aquaculture systems to ensure
stringent standards in water quality and temperature are maintained through the production process.
The extent of biofilm development in a culture system is closely related to the systems' feed input and
management processes utilized to routinely remove the growth. ABLP's nursery systems are in continuous use
which hinders the ability to employ routine disinfection processes (e.g. chlorination) and as such physical
scrubbing is employed either by staff or by pool cleaning robots to control fouling. Additionally system
temperatures are maintained at 26 °C, these warm conditions contribute to rapid biofilm development.
Following the first trial using the ALPHA 4-ways Ultrasound (see Report 1) to control heterogeneous biofouling to one of ABPLs' nursery seawater storage reservoirs, the unit was transferred to a second nursery
system with significant fouling dominated by calcareous sponges thought to be Sycon ciliatum. The floor and lower wall of the 3.05m diameter HDPE reservoir is cleaned twice weekly using a robot pool cleaner. Biofouling is able to become established above the height (approx. 40cm) at which the robot cleaner can reach and has to be routinely removed by vigorous scrubbing using scourers. On day zero of the trial, the reservoir had not had the upper walls cleaned of biofouling for approximately 6 weeks.
There was no apparent change in appearance to the biofouling during the first week of continuous ultrasound treatment. During the second week the sponge began to fade in colour and within a few days more, small pieces
began to flake off. Routine robot cleaning was continued to remove the settled material. By the third week, large bald patches were evident and the sponge appeared to be completely dead. On inspection of the dead sponge it was found to be easily removed by hand without the need of scourers. After 28 days the remaining sponge was completely removed as seen in Figure 4.
ABLP Ltd is extremely happy with the ALPHA ultrasonic results. When employed to control biofouling  organisms in seawater reservoirs the ALPHA 4-ways has proven to:
 Reduce labour requirements for system maintenance;
 Reduces biofouling organism loadings which diminishes potential for disease vectors;
 Removes the risk and cost associated with chemical usage;
 Provides operator safety as the ultrasound head is energized with extra low voltage power.
Report and pictures ABLP

.
TEST REPORT NO 3 ALPHA 4-ways

Australian Bay Lobster Producers Limited
(ABN 74 092 822 485) 9484 Tweed Valley Way
Chinderah, NSW 2487 PO Box 1934, Kingscliff NSW 2487
www.australianbaylobster.com.au

RE: ALGAEFREE ULTRASOUND ANIMAL EXPOSURE TRIAL – REPORT 3
ABLP Ltd cultures Bay Lobsters (also known as Moreton Bay Bugs (Thenus spp.)) at its' marine production
facility located at Chinderah NSW.
Trials have been underway for over 20 weeks where juvenile Bay lobsters have been continuously exposed to ultrasonic sound waves emitted by a functioning OPTIMA 4-ways unit. Initially 100 juveniles were corralled into close proximity to the unit as illustrated in Figure 1.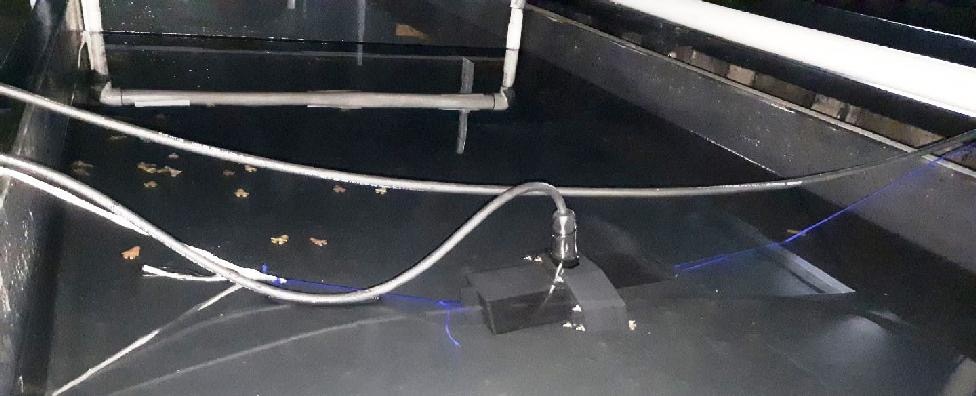 Trial results showed no discernable differences between the test and control groups. Parameters monitored included survival and growth rates, frequency of moulting, appetite as well as animal stress levels and general animal behavior.
Report and pictures ABLP


.
TEST REPORT NO 4, 03.09.2018

Australian Bay Lobster Producers Limited
(ABN 74 092 822 485) 9484 Tweed Valley Way
Chinderah, NSW 2487 PO Box 1934, Kingscliff NSW 2487

RE: H2O Algae Control mod. ALPHA 4 directions
ULTRASOUND NURSERY TRIAL – REPORT 4
ABLP Ltd cultures Bay Lobsters (also known as Moreton Bay Bugs (Thenus spp.)) at its' marine production
Ultrasonic trials with juvenile Bay Lobsters have been underway for 30 weeks. Initial trials were conducted with small numbers of 100 individuals that were corralled in close proximity to an ALPHA 4-Ways unit
and exposed to continuous ultrasonic frequencies, as illustrated in Figure 1. Results from the first two trials indicated the animals showed no evident adverse effects from their exposure. ALPHA ultrasonic units had previously proven themselves to be efficient at controlling biofilm growth in HDPE seawater reservoirs and with confidence that there are no apparent adverse side effects upon the animals commercial scaled trials were commenced.
General animal husbandry practices require a significant quantity of labour to maintain raceways in a sanitary condition. With warm temperatures and elevated nutrient loadings, microbial colonization of all wet surfaces
occurs rapidly. The aim of the commercial scaled trial was to establish if significant labour savings could be obtained. This trial commenced in early June 2018 with an ALPHA 4-Ways unit installed into a 6,500
litre of fiberglass reinforced plastic nursery raceway containing several thousand Bay Lobster juveniles. The commercial trial was conducted over a two month period and the ultrasonic frequencies provided no discernable
influence upon animal health, growth or survival rates between the test and control groups. The ALPHA 4-Ways unit did provide a significant reduction in biofilm development requiring
50% less labour to maintain the raceway in an acceptable condition.
(Report and pictures ABLP)

             


REFERENCE/TESTIMONIAL FOR ALPHA 4-ways FROM ELKEM NORWAY


ALGAEFREE mod. ALPHA 4 directions
ELKEM Solar AS, Fiskåveien 100, 4675 Kristiansand, Norway install ALPHA 4-ways System in Sea water intake June 2017.
The problem that ELKEM Solar has been experiencing, is that we have been plagued with a large amount of mussels in the grates and in sea-water pipes, inside the factory. This caused the water temperature in heat exchanges to increase. As result, frequent and costly maintenance control, including regular cleaning of the pipes and grates was required.
Four months after the install ALPHA 4-ways.  Visual inspection of the control suction pool (as well as an examination of other components to look at weather) there was a reduction number of mussels.
Maintenance Planning Manager, Gert Ivar Gundersen at Elkem Solar AS, said that after the installation almost no more mussels where present. The few mussels that remained, were already dead, as a result of the Ultrasound system. A noted effect, was a reduction of bio-film and algae on the walls, so the mussels can no longer get access to food.
ELKEM Solar AS provided this ALPHA 4-ways. I am happy to give my approval to be a reference for other businesses that are struggling with the same sea-water and mussel problems that ELKEM Solar AS have had.
Contact person for the references: Maintenance Planning Infrastructure by Elkem Solar AS, Norway is Gert Ivar Gundersen
Mobile phone Norway: + 47 9824 0809
Email: gert.ivar.gundersen@elkem.no

Elkem is one of the world's leading companies for environmentally responsible production of materials. Its principal products are silicon, silicones, ferrosilicon, foundry alloys, carbon materials and microsilica. Elkem has four business areas and about 6200 employees.

Elkem Solar has been awarded "Norwegian climate business of the year 2017".
Oslo, 31. October 2017: The company have been selected the winner of the award due to its groundbreaking and long-term work with the development of a new production method for solar silicon.

.
TEST RESULTS FROM TRINITY BAY BARRAMUNDI
Cairns, Queensland Australia
Delivered from our dealer, Fresh By Design
freshbydesign.com.au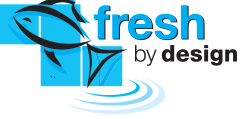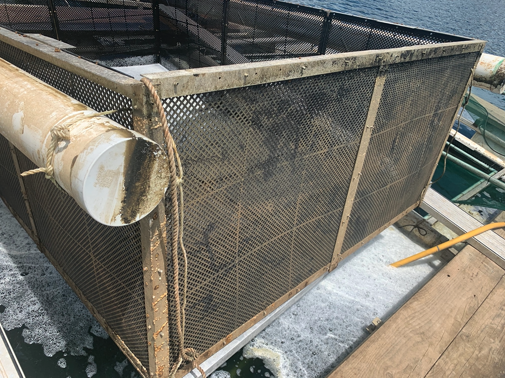 Using ALPHA ultrasound systems in salt water cages. After 4 weeks there was no algae growth visible at all. 

1 week after ALPHA Ultrasound system was turned off there was significant algae growth present.

.
RESULTS FROM ROCKY POINT AQACULTURE
Rocky Point, Queensland, Australia
Delivered from our dealer, Fresh By Design
freshbydesign.com.au

THIS IS THE MUSSEL PROBLEM BEFORE INSTALLATION
OF ALGAEFREE MODEL ALPHE 2-WAYS



CONCLUSION:

Rocky Point is very satisfied with the result after one year. For this reason in December 2020 they decided to invest in the purchase of another ALPHA 2-ways.

.
RESULTS FROM MURRAY DARLING FISHERIES
Wagga Wagga, New South Wales, Australia
Delivered from our dealer, Fresh By Design
freshbydesign.com.au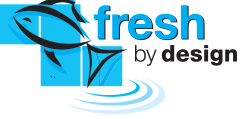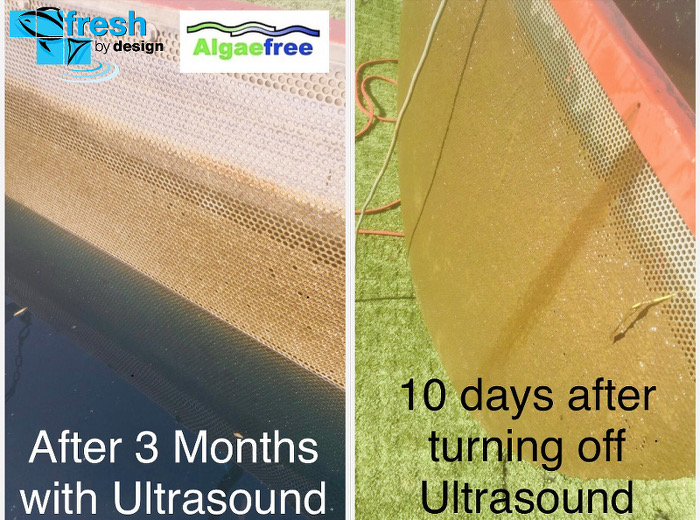 We've seen strong results from a recent trial using the Algaefree Ultrasound to reduce algae growth and cage fouling in a freshwater grow-out pond located in the Riverina, Australia
During the previous season these cages needed cleaning every 2-3 days to maintain water flow and oxygen levels in the cages. After cleaning each cage the fish would stop feeding for a full day afterwards. This continual cleaning was contributing to increased labour costs and reduced fish growth.
This season an Algaefree Ultrasound unit was installed in the pond. The cages remained clean for 3 months and were not cleaned once.
The clean cages resulted in reduced labour and  increased fish growth with a shorter grow out time.
To validate the performance of the Algaefree Ultrasound the unit was switched off after running for 3 months. 10 days later the cages were completely blocked due to fouling and cleaning was required.
A Single 2-Ways Ultrasound unit was used for the trial.
Cages after 3 months with Algaefree Ultrasound


Cages 10 days later without Algaefree Ultrasound



.
HOW OUR ALPHA 4-DIRECTIONS SYSTEM WORKS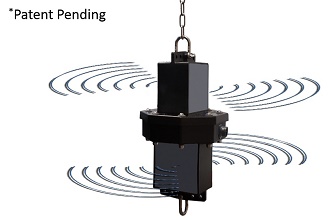 ALPHA 2-ways and 4-ways emit sound waves to create an environment of critical structural resonance. The resonance causes a very unique environment in the immediate vicinity as it can critically vibrate internal parts of green algae and diatoms, causing them to internally tear apart preventing fluid flow, thus causing their destruction.  In blue-green algae, this effect causes gas vesicle tubes to break causing loss of buoyancy and they sink out of light and are destroyed. The resonance also causes bacteria to avoid colonization because it is similar to water turbulence, a condition they avoid in nature. This helps to keep the walls clean. The prevention of the initial bacterial growth eliminates the attachment of algae, barnacles, and other crustaceans.

.
ON SHORE 60w AND 180w SOLAR PANEL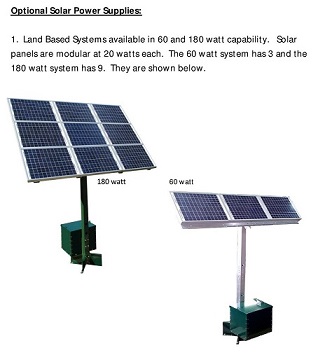 REFERENCES/TESTIMONIAL FOR
ALPHA 4-ways powered by
180w 
solar panel system on a flotation device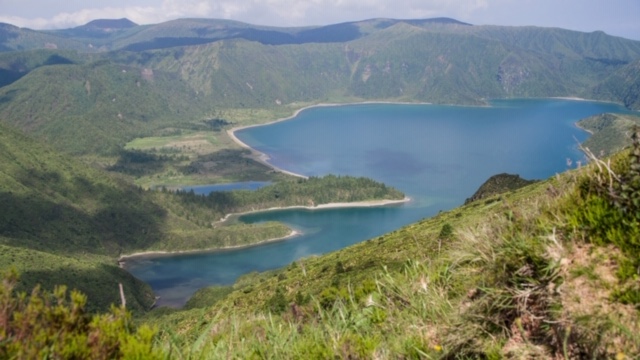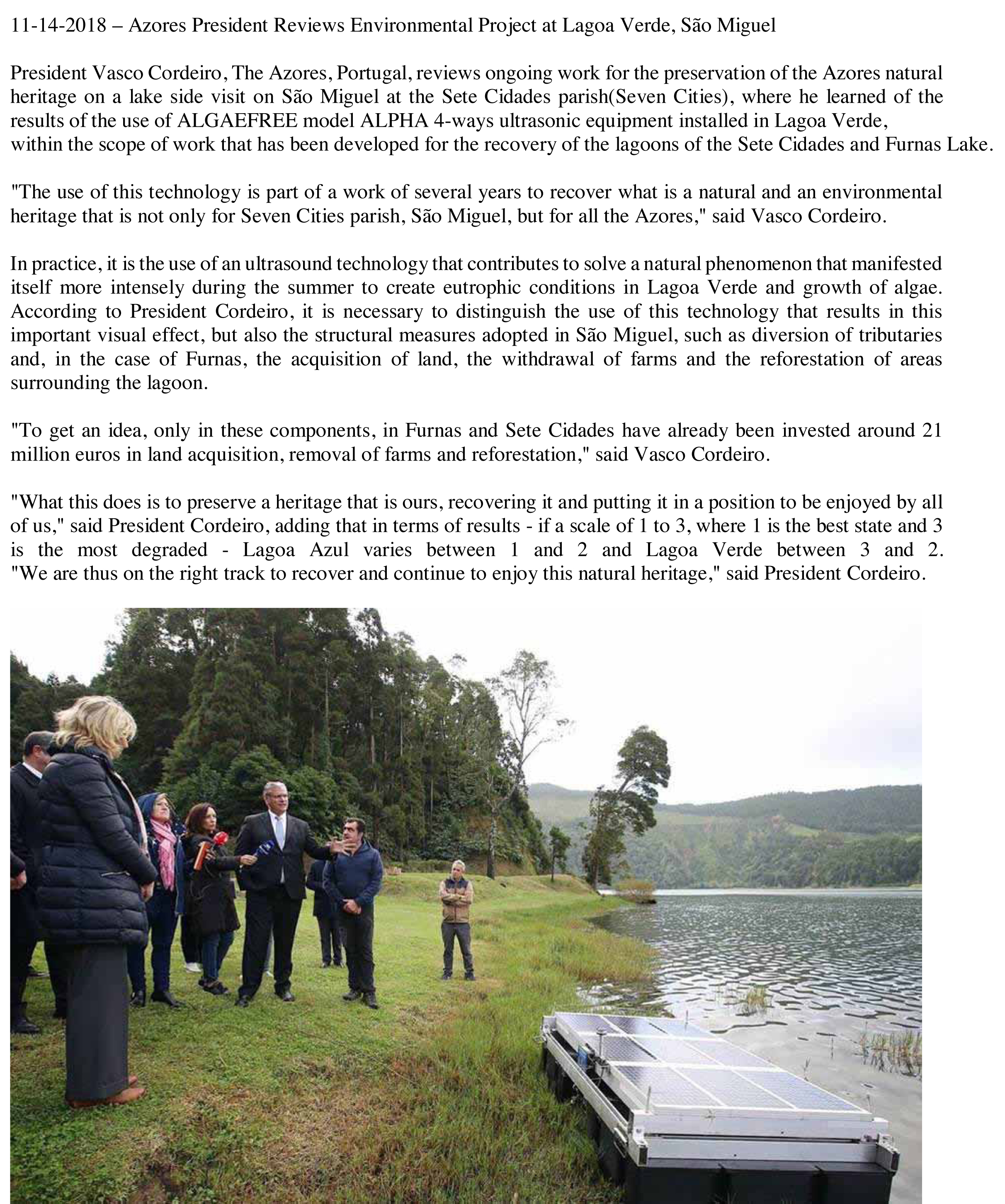 .
REFERENCES
ALGAEFREE mod. Marine
FOR RECREATIONAL BOATS AND SHIPS
PICTURES TELL MORE THAN WORDS!
ALGAEFREE takes ultrasonic anti-fouling to a whole new level! Protection of seachests, strainers, centreboards and hulls with model MARINE Advanced Ultrasonic Anti-fouling
See pictures of the latest test 16 months after installing model Marine, when we lifted Bavaria 38 Sport on shore for the first time, 18 months after installation on 11th April 2014.
See the pictures and be convinced that ALGAEFREE model Marine ultrasound is the only thing that will work if you want to avoid algae, barnacles and mussels on the hulls, propeller, keel and rudder. Boat World magazine was present and filmed the lift and took pictures of the result. The story comes in the next Boat World which will also post the video on their Web page.

See Media and video tests
PICTURES, TEST RESULTS, FEEDBACK AND TESTIMONIALS FROM BOAT OWNERS

:

ALGAEFREE Marine TEST 2013


RESULTS OF OUR TEST BOAT – 27.09.2013
At the beginning of 2012 sailing season, Sverre Lefstad, had the hull of his boat meticulously cleaned, despite this after three months the boat was completely overgrown with algae and barnacles.  In order to keep his boat in good condition for sailing in regattas, Lefstad had the boat out of the water several times during the summer to be cleaned.
Lefstad therefore made an appointment with H2O, to assemble and test MARINE mod. 203 with 2 transducers. The agreement was that the test should be done thoroughly and recording the improvements in RPM and with pictures and video.
The boat was lifted on land 27 September 2013 after 6 months in the sea without being cleaned during this time. The pictures clearly shows that Ultrasound prevents the growth by 95% to 98% when properly installed. The only change for 2014 season, will be to place a transmitter on each side of the keel to prevent a shadow effect to the ultrasound. These have now both been placed on the port side of the keel. This test showed the port side almost completely free of fouling. Possibly also for 2014 season, Lefstad will attach one more transducer in order to achieve 100 % effect.
This is the result after 6 months using 2 pcs ALGAEFREE model Marine transducers and WITHOUT any chemical anti fouling. As you can see – the boat is 100% free of green algae growth and mucus. Only a few small patches of barnacles. This may have been caused by a period of bad weather where the pier lost power for three weeks and Algaefree was not connected to 220 volt during this time.
See below for pictures from the test:
.
.
.
.

TESTIMONY AND TEST RESULT
BAVARIA 42  TEST 2012/201
H2O
Att. Odd Rolfsen
When we took the boat on shore in 2011, we could hardly see what the hull, stern drive and bow propeller were made of.  The bow propeller was actually stuck because of the barnacles and fouling and no longer worked.  The repair bill for this was about $2100, to take off the drives and service them. (They probably spent hours scraping and cleaning off the stubborn barnacles).
Late in Fall 2012 I discovered the boat was badly overgrown again despite new anti fouling in the Spring of 2012 but fortunately we heard about Algaefree and that it would keep the hull and the drive clean from barnacles and fouling.  If Algaefree could save us unnecessary expensive repairs, work and fuel savings season after season, it would be a very good investment, even though we were somewhat skeptical of the effect.  Also, we realized that the water intake into the engines was beginning to grow again and the damage and expense it would cause.
We agreed to buy the system and in November 2012, we mounted Algaefree model 203 AC + DC with two probes that were easily assembled by inserting a transmitter in the center and amidships.  At the time of installing the transmitters the hull was fully covered in growth and the bow thruster already overgrown again despite the fact that it had been flushed only two months earlier and had repair of faulty trim tab.  We could also see the drives were rather overgrown with barnacles.  We had just moved the boat from Aker Brygge to the King Marina on Frognerstranda in Oslo (also in saltwater) where the boat would be in seawater for the winter.
You can imagine our excitement when at the end of May this year when the boat was taken to Båtservice, Asker for service and anti fouling.  We weren't present when the boat was taken out of the water but we took photos ONLY after the boat had been steamed.  The drives were virtually completely clean of fouling, the hull was spotlessly clean and not even any signs of barnacles on the bow thruster.
The Service was performed without removing the drives or replacing the bellows.  The bellows were amazing, completely clean and not necessary to be changed when Volvo Penta provides 2 year warranty on these.  The paint was also very nice.  What was most surprising was that all the barnacles that were already on the hull had also disappeared.  The advertisement for H2O said that when the boat is in motion the dead growth on the boat would be released and it this was really confirmed.
Nevertheless, we decided to anti-foul the boat this year but only for aesthetic reasons (muddy waterline).  The stern drives were sprayed with antifouling and was completely swept without scraping or doing anything else.  The bow propeller and the housing were also quite clean apart from damage to a leaf and therefore had to be replaced which was probably caused because we drove the propeller when it was completely stuck with barnacles and not working anymore.
H2O MARINE works as you promised and exceeded our expectations.  This was a very wise and sensible one-time investment that we will benefit and enjoy year after year.  With a low power consumption of just 8 watts and 0.66 amps per hour.  Our investment in THIS PRODUCT has paid off before even a year has passed and it must be said surpasses the most skeptical of expectations.  We have very "grateful" neighbors when they realized why their overgrown boats have been cleaned by the Ultrasound effect radiating to the surrounding boats.
We are very happy that we discovered ALGAEFREE model MARINE and our experiences are entirely positive both with the effect of the product and the service we received. Now we look forward to a algae free boating summer where we maintain speed throughout the season and saving on fuel costs!
Sincerely,
Arve and Jeanette Rosenvinge
Oslo 04/06/2013
RESULT AFTER 8 MONTHS
No barnacles left, just dead  grass!

TESTIMONY AND TESTRESULT

Boat magazine, Boat to the North
(test and pictures of the Boat to the North, no 2/2013)
ALGAEFREE MARINE

 EYE CATCHING GOOD BARNACLE KILLER!

Boat in the North has tested thIs great PRODUCT The photos were taken before the installation of the algae-free and taken again already, just a week after installation. As the pictures show, has as good as all of the algae, and barnacles fouling after a few days the wilted. A drive with the boat and it all washed away. The ultrasound is preventing new fouling, barnacles and shells attach themselves on the hull, propeller, keel and drove-once and for all.
RESULT AFTER 4 WEEKS

TESTIMONY AND TEST RESULT
OCTOBER 2012 – MICORE 570 CC
Mr Odde Rolfsen
H2O
This test is made without anti-fouling. After 2 months with ALGAEFREE model MARINE shows a fantastic result.
No algae, barnacles or Coral Worms.  The hull was 100% clean, just Brown dead slimy fouling on the sides and rear and took me a few minutes to flush.
Oystein Rovik
Representative Aquaculture
REFA International
SEE TESTRESULT

TESTIMONY AND TESTRESULT
VITECH 62 – 32 TONN
GOLD COAST QLD, AUSTRALIA APRIL 2012
Mr Odde Rolfsen
Development
TEST RESULT ALGAEFREE model MARINE AT VITECH 62 – 32 TONN
I installed ALGAEFREE model MARINE on the boat on the 2nd November 2011 after the boat had last been out of the water on 10th September 2011, at which time it had been cleaned of coral worms, algae (grass) and barnacles.
The boat was then purposely not treated with antifoul, considering that we were going to be installing and testing AlgaeFree. 2 months later when AlgaeFree was installed, the boat had already accumulated much barnacle and coral worms on both, rudders, propellers and drive shafts.
The owner has stated that during this 6 month period the boat (after installing AlgaeFree) has been regularly used once a month. The test is being carried out during summer, with a water temperature averaging 24 to 25 degrees, which is the worst time for fouling.  The boat has been deliberately left to lie with AlgaeFree connected to shore power for 5 months to determine the long-term results. To verify the results, I was again personally present and took pictures as the boat was taken on shore at Coomera, Gold Coast on Monday 16 April and then only for photo shooting to assess the results of having AlgaeFree installed for 5 months.
 The only thing that was done in addition to taking photographs and video footage was to scrape the propellers clean of coral worms. No antifouling was applied to the propellers or the hull. After the photo shoot and scraping of the propellers, the boat was immediately put into the water again.
TEST RESULT:
There were no signs of either barnacles, mussels or algae (grass) on the hull. AlgaeFree has been effective in keeping such growth off the hull. The algae that had grown on the hull prior to installation was now dead and falling off.
The images show that AlgaeFree has been 100% effective in keeping the hull free from algae, barnacles, mussels and coral worms. Similarly, AlgaeFree was 100% effective on the bow propeller. When it comes to propellers, rudders and drive shafts, AlgaeFree has been approximately 90% effective in preventing barnacles- which is the largest and most common problem.
The result also shows that on the propellers, rudders and drive shafts, AlgaeFree has worked to 75% effectiveness on "Coral Worms". Coral worms are a coral-parasite that grows in large quantities of the Gold Coast. The owner believed that this had already been there before we installed AlgaeFree.
The test results on AlgaeFree, the photos speak for themselves and it is very pleasing to be able to provide you with this report. It will come as no surprise when I say that both the boat owner and we at AlgaeFree are very pleased with the results to date.
TEST RESULTS ON HULL
Some algae had grown in the time between September and November prior to installation of Algaefree.  There was no sign of grass algae, barnacles, shell or coral worms on the hull.  The algae that had attached to the hull before the installation was gone, so Algaefree works as seen the in photos. The results showed 100% efficacy.
TEST RESULTS OF PROPELLERS
There were no signs of grass algae or barnacles on either the propellers or "bow thrusters". The results showed 100% efficacy.
TEST RESULTS OF THE KEEL
There were no signs of grass algae or barnacles on the keel. The results showed 100% efficacy.
TEST RESULTS ON AXLES AND RUDDER
As the pictures show there was no barnacles on rudders and shafts. The results showed 75% efficacy.
CORAL WORMS TEST ON PROPELLERS
The remaining coral worms already had attached prior to installation of Algaefree. The coral worms that had fastened on the propeller. The results showed 75% efficacy against Coral worms.
 Ken Tregeagle
Boatowner
GOLD COAST QLD, AUSTRALIA APRIL 2012
This is the result after 5 months:

TESTIMONY AND TESTRESULT 2011
Samson 35 feet, steel prawn trawler
AFTER TESTING ALGAEFREE model MARINE (8 months with only 1 transducer 50 watt)
.
HISTORY BEFORE INSTALLATION:
The shrimp trawler had not been in dock for the 3 last years and haven't been used the last year when we install ALGAEFREE model MARINE. Therefore there was a  thick layer of barnacles all around under the hull (see picture 1) and stern, long green grass.
See the result for yourself.
.
Mr. Odd Rolfsen
Algaefree
MTI Development
The ALGAEFREE model MARINE equipment was mounted in September 2010. At the time the boat was very overgrown with algae and with a thick layer of shells under the waterline.  With two transducers instead of one, we also would have got rid of the rest of the barnacles on the bow, see picture above.
The plan was to put the boat in dry dock during autumn, but this was not done and the boat has more or less been in the water ever since. After installing ALGAEFREE model MARINE, the growth of algae was clearly reduced and what was already on the hull before installing this great product was attached loosely and could easily be scraped off.The boat has, in the period from September 2010 until today, April 2011, approx. 8 months , only been on short intermittent trips. The result s that the hull is clean, with no heavy growth of shells and algae on the waterline, and it is only a bit dead "hairy" on the waterline.The state of the algae situation under the boat I have no control over, as I have not had the boat in dry dock since installing the equipment. But the speed of the boat compared to the speed of a newly released boat confirms the same result as the waterline; the growth of algae is reduced /stopped.Based on these experiences and compared to experiences of algae growth under similar conditions without Algaefree, this is an extremely effective and environmental way to reduce/stop the problem of algae growth.It should also be mentioned that the installation of the equipment was simple and easy, and completed in about 30 minutes.
Regards
Per Torp
Captain on Samson
Tofte, Norway 28.04.2011
.
BEFORE:


SEE TESTRESULT AFTER 8 months with ALGAEFREE model MARINE: