Green and Sustainable systems in all environment
It Is Applicable to Industrial Waste Water Treatment System, Agricultural Fish Ponds, Ponds and Lakes, Irrigation Reservoirs for Animal Husbandry, Urban Water Environment Treatment, Waterworks, Hydropower Stations, Sewage Treatment Plants, Drinking Water Storage Tanks, Urban Landscape Pools and Fountains, artificial Lakes and Rivers in the Park, Recreational and Fountains, artificial Lakes and Rivers in the Park,
Recreational Facilities, Swimming Pools, Golf Courses and Other Occasions.
.

The ALPHA 2-ways and ALPHA 4-ways units eliminate up to 90%
of existing algae and prevents the growth of new algae

What types of algae is your system effective against?
The following genum (above) and species (below) are commonly controlled by ultrasound: Aphanizomenon, Cyclotella, Pseudanabaena, Anabaena, Dictyosphaerium, Phacus, Aphanochaete, Fragilaria, Pinnularia, Arcella, Gloeocystis, Planktothrix, Gomphonema, Chlamydomonas, Lagerheima, Chlorella, Lyngbya, Chroococcus, Micractinium, Spirogyra, Coelastrum, Staurastrum, Microcystis, Cosmarium, Tabellaria, Crucigenia, Nitzschia, Tribonema, Ulothrix, Botrycoccus braunii, Rhodomonas minuta, Scenedesmus acuminates, Scenedesmus quadricauda, Merismopedia tenuissima, Sphaerocystis schroeteri, Chloromonas botrys, Navicula minima, Cryptomonas erosa, and Oocystis pusilla.
What happens to the waste algae?
The waste algae becomes less buoyant and sinks to the bottom of the body of water. In aquifers, lakes, ponds, and other bodies of water, the waste algae gets eaten and reabsorbed by the local wildlife. In swimming pools, aquifers, and other water retention systems, the filtration systems remove the remnants.
What is cavitation?
Cavitation is a phenomenon in which rapid changes in water pressure result in the formation of small vapor-filled "voids". When again subjected to higher pressure, these voids collapse and generate shock waves capable of damaging nearby equipment and structures.
Why is cavitation bad for algae management?
If algae is growing near a cavitation void, the resulting shockwave damages the outer cell wall of the algae, releasing all of the toxins into the water. This can lead to massive fish kills and the destruction of the water ecology.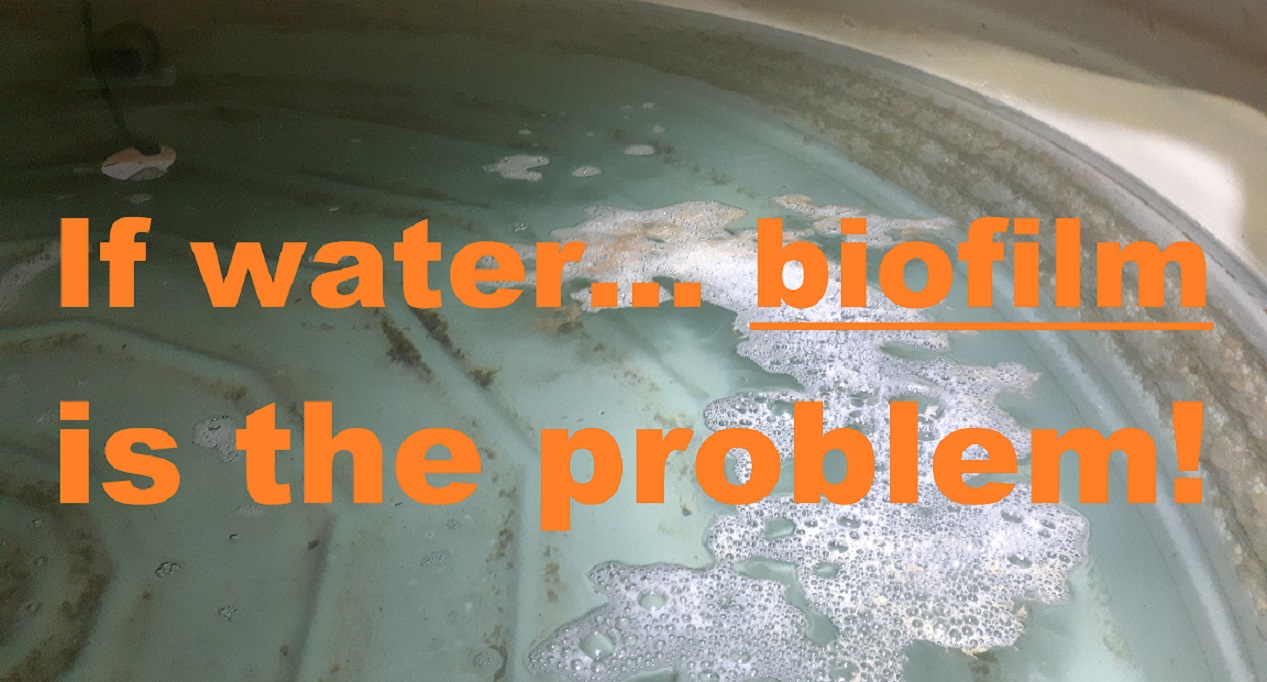 Biofilm are bacteria that attach permanently to surfaces and colonize reversibly so
mussels and barnacles can attach. Ultrasound prevent biofilm from adhering.

.
ALGAEFREE model ALPHA ULTRASOUND SYSTEMS
AND HOW IT WORKS


ALGAEFREE model ALPHA emit sound waves to create an environment of critical structural resonance. The resonance causes a very unique environment in the immediate vicinity as it can critically vibrate internal parts of green algae and diatoms causing them to internally tear apart preventing proper fluid flow.  In blue-green algae, this effect causes gas vesicle tubes to break causing loss of buoyancy and they sink out of light. The resonance also causes bacteria to avoid colonization because it is similar to water turbulence, a condition they avoid in nature. This helps to keep the walls clean. The prevention of the initial bacterial growth eliminates the attachment of algae, barnacles, and other crustaceans.
CAVITATION
Most concerns about ultrasonic algae and biofilm technology arise from conditions that occur from cavitation.  This is a phenomenon that can occur in very close proximity to some ultrasonic algae control devices due to running them at over powered conditions, but even these devices cannot project cavitation more than a few centimeters from the device.  Cavitation is a very powerful water phenomenon that first became known to engineers back in the early days of steam powered ocean-going vessels.  By trying to speed up these vessels merely by increasing the propeller speed, they created hydraulically induced cavitation on the surface of the propellers that literally destroyed them over time.  This occurs due to extreme turbulence that causes voids (vacuum) pin points in the water that collapse and compress dissolved gases from the water into very tiny bubbles that generate extreme temperatures for about a millionth of a second.  It is these very high temperatures that can cause damage to virtually anything in contact with it.
To cause these effects in a large body of water would be virtually impossible without creating very high water velocities or by creating shockwaves that leave a wake of cavitation bubbles behind them.  I know about this because I have been working on such technology for use in waste water remediation of solid waste and it is a very difficult thing to achieve and requires thousands of volts of electricity to create.  Ultrasonically, you can create this effect, but need something close to a sonar pulse of thousands of watts like you might find in a submarine or a naval battleship.
The ultrasonic algae control devices generally have peak wattage levels of less than 50 watts and some of them can create a very small amount of cavitation at the surface of the device, but it does not project into the water body.  This is due to the principle of loss of sound over distance which drops 20 dB every log meter. When we designed the operation of our ALPHA transducers, we kept the output volume below the threshold of cavitation (about 195 dB at 1 meter away) so that even if you touch the device while it is operating, you will not sense any cavitation.  I did this because I have personally been burned by cavitation twice due to touching a device that was emitting at its peak power.  I did not want anyone using our device to ever have to experience that sensation.  Even with those devices, you must be physically touching it to sense cavitation.  The effect is not projected into the water column.
 BIOFILM IS THE CAUSE OF THE PROBLEM WITH ALL UNWANTED FOULING
 
WHAT IS BIOFILM?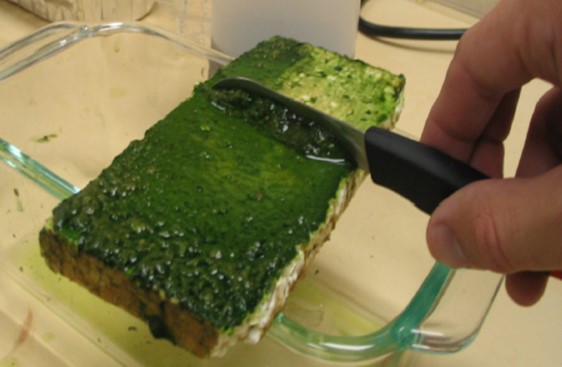 Biofilm is a coating of bacteria or microbes, which develop, due to an interaction between the surface and micro-organisms.
Biofilm is an advanced community of micro-organisms (such as bacteria, fungi and viruses) which are wrapped in a self-generated, protective slime. Micro-organisms prefer a life of biofilm. We find biofilms everywhere in nature, where there is moisture and nourishment, indeed on the mucous membranes and other surfaces in the body.
The formation of biofilm occurs in water pipes, water tanks and the like. Usually they consist of relatively harmless micro-organisms, but can also allow contaminants to gain a foothold, grow and develop in these biofilm. Biofilm can thus become a reservoir of infection, both directly and indirectly, i.e. if the water is used in offices for the production of food.
We must develop new strategies to both, prevent unwanted biofilms and to remove the finished-formed bio films. In addition, more knowledge about the 'anti bio film effect' of traditional methods, 'bio-prospecting' will become be important.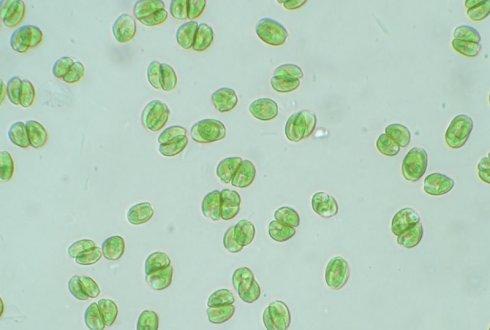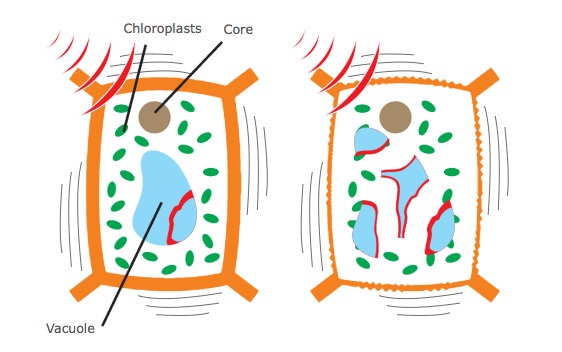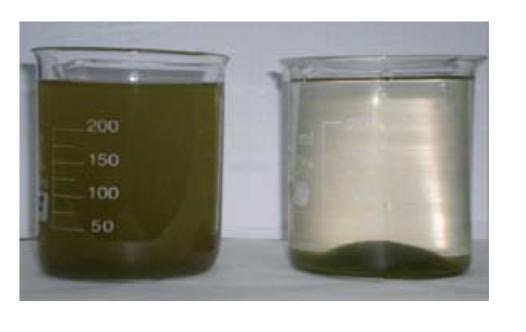 Also, the attached image from Texas A&M conclusively shows that outer cell walls of algae are not broken by ultrasound.
The gas from the internally broken gas vesicles which are only a protein layer thick, release their gas and it accumulates on boundary of the outer wall.  From their it slowly diffuses out to render the cell heavier than water.
For comparison, our devices only use a fraction of the power used in a fetal ultrasound imaging device.  They also use less power than a typical boat depth finder that have never been found to be detrimental to aquatic life.
All the issues generated in the literature review what was cited were based on a very poor understanding of the principles of the ultrasonic algae control device operation.  These devices do not lyse algae cells and cause them to release toxins.  It is physically impossible.  Yes, if you put a device in a beaker and turned it on it would be possible to lyse some algae cells that might be very near the surface of the output sound emission point, but in an open water environment that does not even occur within a centimeter of the device.
Toxins released by blue-green algae are created to share microcystin (or similar compounds that they make) provide a source of Nitrogen for the algae colonies.  They are made by specialized cells called heterocysts.  Nitrogen is essential to the growth of an algae bloom.  For example, amino acids and chlorophyll cannot be made without Nitrogen.  Blue-green algae make this chemical (microcystin) in abundance when there is insufficient Nitrates in the water to supply the necessary amount of Nitrogen.  It just happens to be toxic to humans and other mammals.  When these algae die, they basically stop making this toxic material, they do not release it.  In lakes where we have deployed ultrasound for algae control, blue-green algae are soon rendered heavier than water causing them to sink to lower levels in the water.  At these levels the heterocysts cannot get enough UV light to continue to make microcystin, so the level soon becomes so low that it is even difficult to measure.  This also severely hampers the bloom growth due to lack of light and lack of self-created nitrogen compounds.
We have devices in fish hatcheries and ponds around the world.  No fish has ever been harmed by an ultrasonic algae control device and we have probably save millions of fish by controlling harmful algae blooms without chemicals.
If you read the literature review, you will see that there was no evidence cited of many of the supposed adverse macrocosm effects that were conjectured.  That is because there isn't any evidence that these kinds of problems can arise.  If there were, I would not be in this business.
As to the kinds of problems that are real and can occur due to use ultrasonic algae control technology, I know of only one.  If there is a significant bloom occurring and you place one of our devices in the pond or lake, it is possible to have a rapid die-off of algae.  Because bacteria will begin to consume the dying algae, the bacteria can over consume oxygen from the water.  Under these conditions, it is advised to have some supplemental aeration in the pond, at least temporarily during the algae die off.  The same condition can occur if chemicals are used to kill the algae suddenly.  We generally recommend having the devices in service early in the season before any significant blooms can occur.  Many people do not know that algae consume almost as much oxygen at night as they produce in the day.  This can cause severe swings in the dissolved oxygen level from day to night.  Typically, at dawn the oxygen level will be at its lowest point.  If you see your fish gulping for air at dawn, then they are being deprived of oxygen.  When a bloom like this suddenly fails for whatever reason, the combined effects of not making oxygen and bacteria consuming oxygen as they eat the dying algae can lead to an oxygen level that is too low to support the fish.  Typically, the larger fish die.  Being in this business for over ten years now, I have had many people call too late because they have just lost most of their fish.  It is not a pleasant call to take.
Supplemental aeration is one of the most beneficial things you can do for your water system.  It supplies oxygen from the top to the bottom of the water column.  This encourages aerobic bacterial action as opposed to anaerobic bacterial action.  Anaerobic bacteria release phosphates from organic material they eat near the bottom of the water column.  Blue-green algae have adapted to this phenomenon and daily sink themselves to the bottom at night so that they can get better access to richer phosphate nutrients.  The movement up and down the water column is due to naturally becoming heavier than water during the day as they build hydrocarbon ballast via photosynthesis.  They maintain a delicate weight balance to achieve this.  Ultrasonic damage to their gas vesicles renders them permanently heavier than water after about 3-4 days due to the gas from the vesicles migrating from the tiny tubes out to the outer cell wall.  The outer cell wall cannot prevent the gas from slowly diffusing through it and as it does the cells begin to become too heavy to return to the surface for light.
Aerobic bacteria can be used to help remove excess phosphates from the organic muck at the bottom of the pond or lake.  We subscribe to using these beneficial bacteria for this purpose as they can absorb and remove phosphates from the water.  We call the use of ultrasound, beneficial bacteria and aeration The Water Trifecta®.  It is a proven method of restoring pond health and an easy to maintain water environment that everyone, including the fish, can enjoy.

Maximum coverage
Algae and distoms
Cyanobacteria (with vesicles)
Radius of 150m, 7 ha or 17.5 ac
Radius of 400m, 50 ha or 124 ac
Power module
AC 24, 120, 240 V – 50 or 60 Hz
50 m cable (max. 150m)
DC 24 V – solar or batteries
Electrical consumption
20 W
Peak at 50 W
Frequencies
2024
Bandwiths
24 – 58 kHz and 195 – 205 kHz
Warranty
3 years