GO 100% GREEN AND SUSTAINABLE
NO MORE CHEMICALS

PONDS AND LAKES
ALPHA ULTRASOUND SYSTEM WORKS
ALPHA
4-ways
 

emit sound waves in 4 directions simultaneously
and 1.582 different frequencies to create an environment of critical structural resonance.
The resonance causes a very unique environment in the immediate vicinity as it can critically vibrate
internal parts of green algae and diatoms causing them to internally tear apart preventing proper fluid flow.
In blue-green algae, this effect causes gas vesicle tubes to break causing loss of buoyancy and they sink out of light.
The resonance also causes bacteria to avoid colonization because it is similar to water turbulence, a condition they avoid in nature.
This helps to keep the walls clean. The prevention of the initial bacterial growth eliminates the attachment of algae, barnacles, and other crustaceans


Effective treatment to control algae. Use of ultrasound through water can eliminate up to 95%
of existing bacteria and algae and controlling growth and thus reduce or eliminate the need for chemical dosing.
ALPHA system prevents the formation of new algae in both sessile and planktonic form.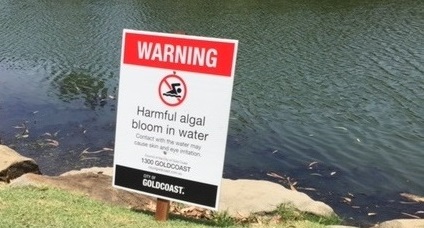 This particularly pond in a beautiful public park in QLD had so much pollution so Council had to put up 10
of this WARNING sign around the pond for public to avoid and even touch the water and also warning dogs to drink it.
This Blue-Green algae is an ongoing problem, so that's why the Council are doing this every summer. 

If the Government had invested our APLHA system, the ultrasound would clean it up in 3 weeks and kept it clean, ones and for all.
FOR BIGGER LAKES WE CAN OFFER ALGAEFREE MOD SOLAR ALPHA FLOATE SYSTEM 

Solar Pontoon System In Use
This solar pontoon system is configured with bird deterrents, warning flag (not pictured),
solar charge controller, ALPHA 4-ways transducer (suspended 2 meters below the water), and a warning strobe.                                   
                                                                           
The Pontoon package includes Transducer, 240v Control box, Transducer Cable, chain and cackles.

                                    This is the pontoon with Solar panels and Ultrasound ALPHA 4-WAYS sonic head fully equipped and ready to go in a lake or reservoir
It also includes:
1) a heavy chain through and under the middle of the pontoons that is used to attach to an anchor (note anchor and mooring line is not included),
2) reflectors on the assembly for better night time visibility,
3) connecting cables from the solar panels plus a junction box where the individual panel inputs are combined to a single cable outlet to the charge controller,
4) an attachment chain to hang the ALPHA 4-directions to the frame with D-shackles, carabiner, zip ties, etc.
5) easy lift struts to add spring lift for the panels making it easy to open for on the water inspection,
6) handles on the corners to make it easy for four people to manually lift the entire assembly into
the water.
7) switches to turn off the batteries and solar charge controller.
8) if required, we can deliver the float with 2 pcs ALPHA 4-ways 
RESULT FROM A HUGE LAKE IN PORTUGAL