GO 100% GREEN AND SUSTAINABLE
NO MORE CHEMICALS
ALPHA ULTRASOUND SYSTEM REFERENCES FROM ALL OVER THE WORLD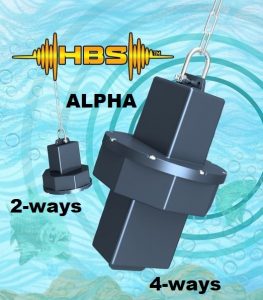 30.09.21 PIRRAMIMMA WINERY GOT AWARD
FOR LEADERSHIP IN ENVORONMENTALEXCELLENCE AWARDFOR VINECOULTURE
FOR THEIR INNOVATIVE APPROACH TO WATER MANAGEMENT,
USE AND INVEST IN ALGAEFREE ULTRASOUND SYSTEM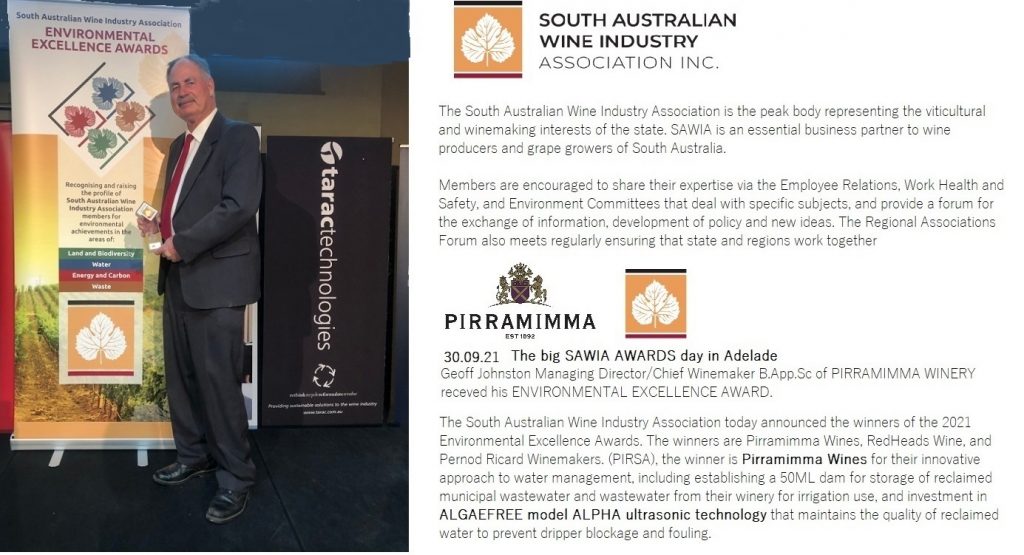 ALGAEFREE ULTRASOUND SYSTEM IN IRRIGATION DAM


Great Installation the way PIRRAMIMMA Winery find the smart solution to roll in the transducer (UT)  when cleaning once a month.
ALPHA 4-ways PROSESS IN PIRRAMIMMA WINERY IRRIGATION DAM IN 3 WEEKS

The great PIRRAMIMMA Winery, McLaren Vale, South Australia installed ALGAEFREE model ALPHA 4-ways 18. August 2021.
Picture no 1 is taken 23. August .(after 5 days) when ALPHA starts the process to clean up the water.
Picture number 2 is taken after 10 days and shows how ALPHA clogging the algae and working its way through dislodging.
Picture no 3 is taken 6. September show the way ALPHA braking down clogging into smaller algae clumps.
Picture no 4 is taken 9. September show the result with ALPHA 4-ways Ultrasound System 3 weeks after installation.
THIS IS WHAT IT LOOKS LIKE AFTER PIRRAMIMMA WINERY EMPTY THEIR DAM AFTER 2 YEARS
AND 8 MONTHS AFTER THEY INSTALL ALGAEFREE
The result after ALPHA ultrasound have kill the algae, is only a white light layer of film on the bottom of the dam.
All text and photos by PIRRAMIMMA WINERY
E-mail from Geoff Johnston PIRRAMIMMA WINERY 23. August 2021:
Hi Odde
Subject ; UT update
After only 5 days the UT in the  dam, the water quality improvement is incredible ,
now the UT is working on the HDPE dam liner Biofilm and the has been a marked
visual improvement even since yesterday . The water today looks crystal clear
although it's a bit overcast today at the dam which might be helping my observation.
I will be interested to have another look when the sun comes through.
Regards
Geoff Johnston
Managing Director/Chief Winemaker B.App.Sc
McLaren Vale, South Australia
Date 23. August 2021
OTHER REFERENCES

Article in Nickel News from GLENCORE Nickle company Kristiansand NORWAY
GLENCORE installed  ALPHA 4-WAYS 4 years ago.
The result is $125.000 saving every year, lots of maintenances work and no more problems with heat exchanger's.


NO MORE CEMICALS AFTER INSTALL ALPHA ULTRASOUND SYSTE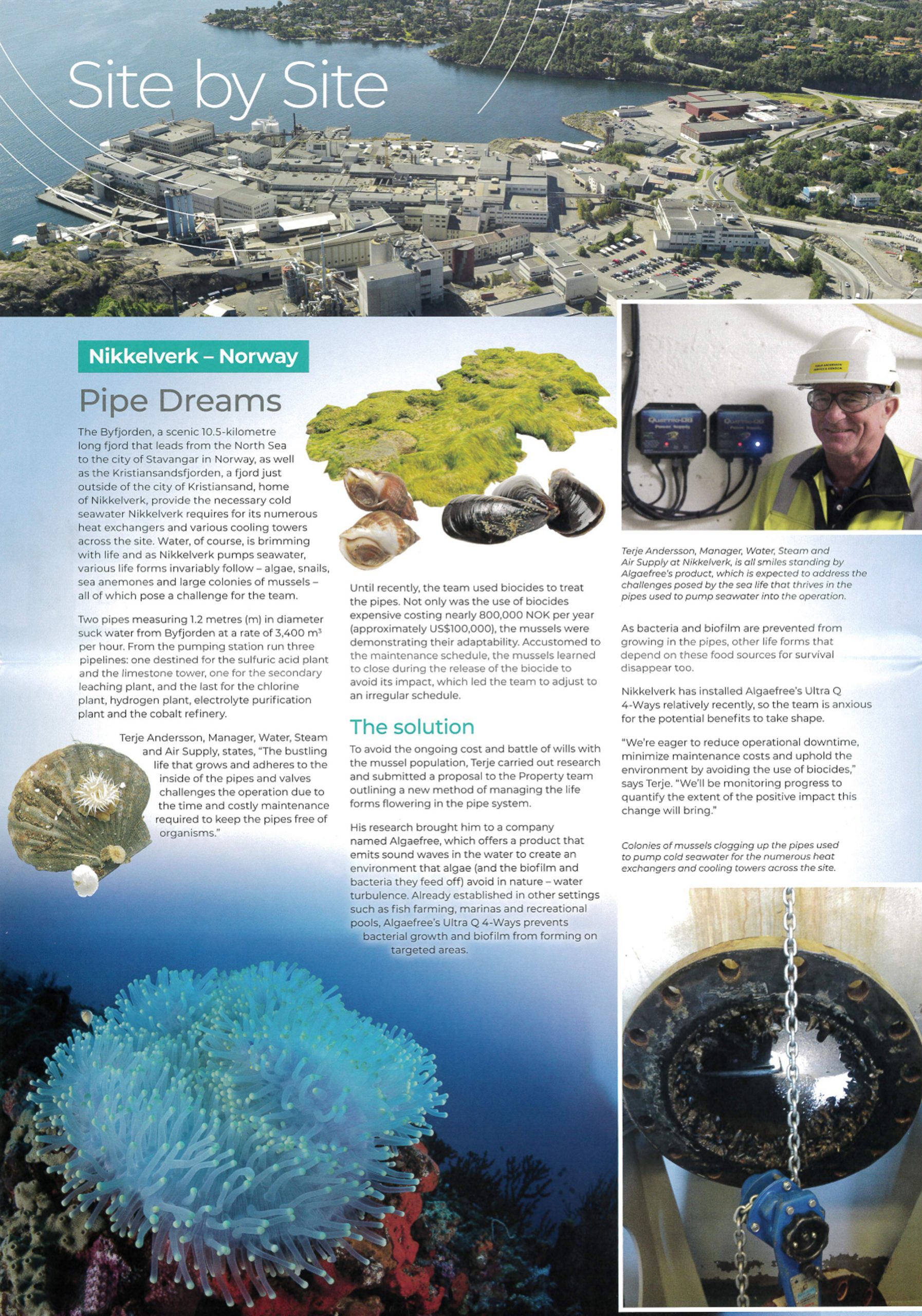 Report from Elkem Solar Norway
ELKEM install ALPHA 4-ways System in sea water reservoir intake June 2017
The problem that ELKEM Solar has been experiencing, is that we have been plagued with a large amount of mussels in the grates and in sea-water pipes, inside the factory. This caused the water temperature in heat exchanges to increase. As result, frequent and costly maintenance control, including regular cleaning of the pipes and grates was required.
Four months after the installation of ALPHA 4-ways.  Visual inspection of the control suction pool (as well as an examination of other components to look at weather) there was a reduction number of mussels.
Maintenance Planning Manager, Gert Ivar Gundersen at Elkem Solar AS, said that after the installation almost no more mussels where present. The few mussels that remained, were already dead, as a result of the Ultrasound system. A noted effect, was a reduction of bio-film and algae on the walls, so the mussels can no longer get access to food.
ELKEM Solar AS provided this ALPHA 4-ways. I am happy to give my approval to be a reference for other businesses that are struggling with the same sea-water and mussel problems that ELKEM Solar AS have had.
Contact person for the references: Maintenance Planning Infrastructure by Elkem Solar AS, Norway is Gert Ivar Gundersen
Mobile phone Norway: + 47 9824 0809
Email: gert.ivar.gundersen@elkem.no

ELKEM Solar is one of the world's leading companies for environmentally responsible production of materials.
Its principal products are silicon, silicones, ferrosilicon, foundry alloys, carbon materials and micro silica.
Elkem has four business areas and about 6200 employees.

ELKEM Solar has been awarded "Norwegian Climate Business of the year 2017.
The company have been selected the winner of the award
 due to its ground breaking and long-term work with the development of a new production method for solar sialic.
ALPHA 4-ways CLEANING UP A HUGE LAKE IN PORTUGAL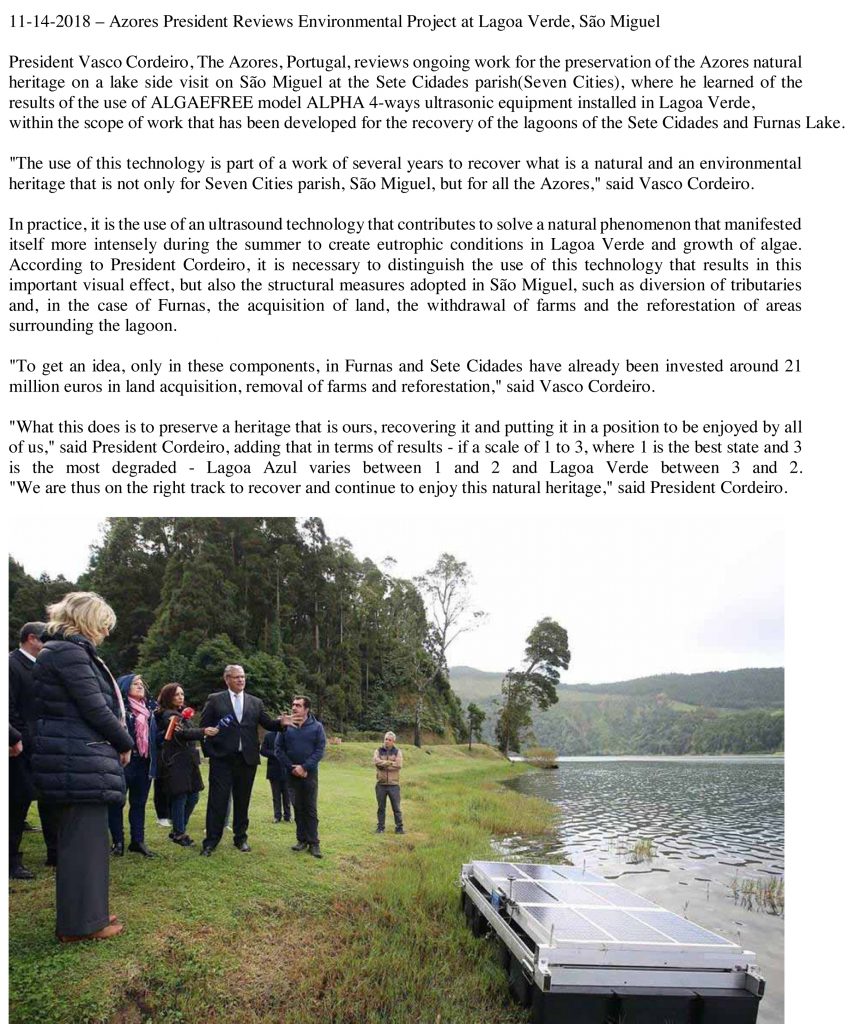 www.salmar.no
SalMar Norway tested from April 2019 to end of the year 4 pcs ALPHA 4-ways around the fish net in the ocean
and the result show that they reduced net cleaning (underwater hosting) by 48%. That means $88.0000 saving pr. cage pr. year
Picture from assembly April 2019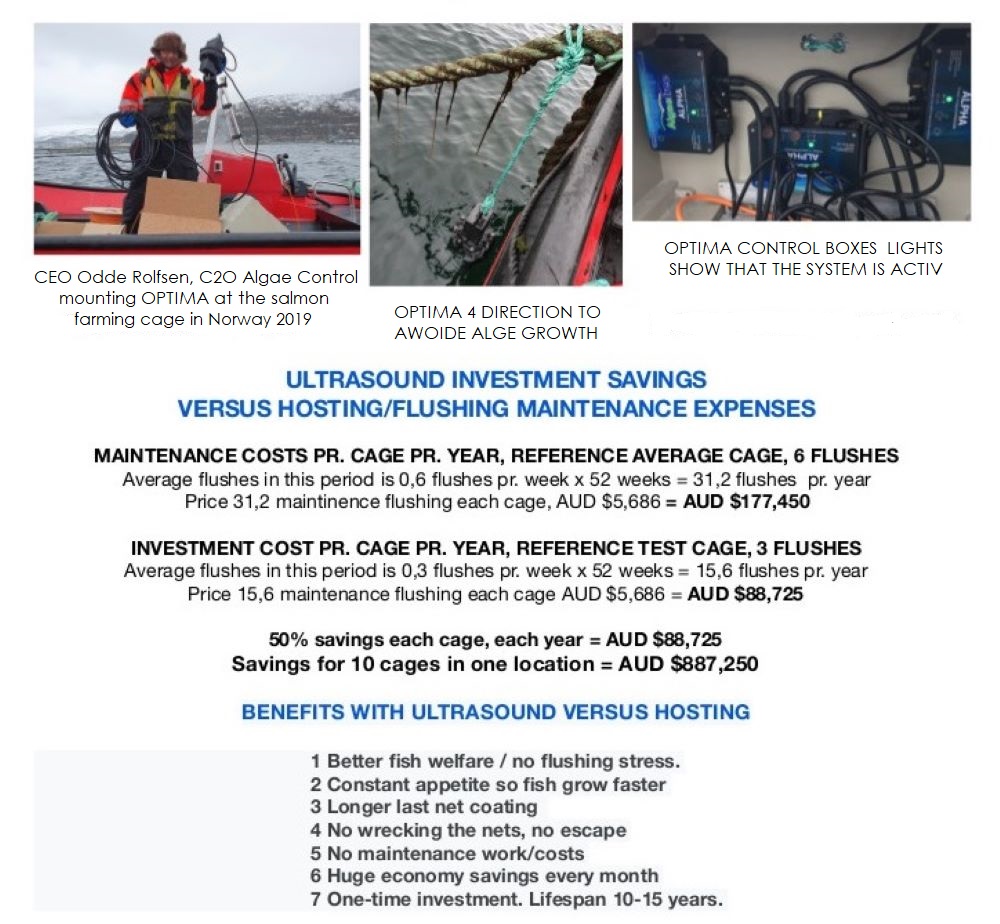 Graphic from SalMar test Norway 2019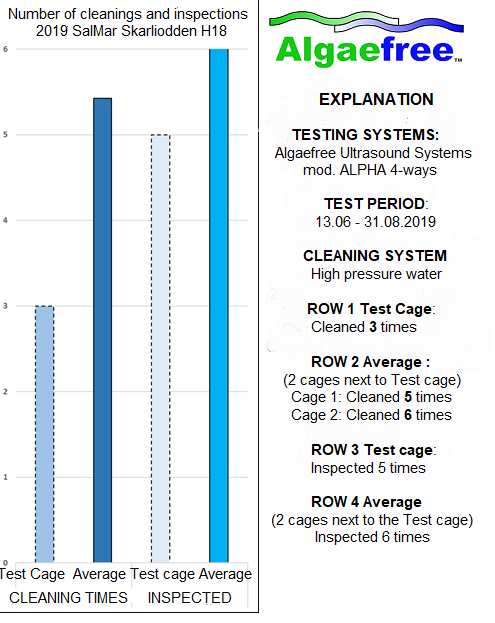 ALPHA 4-ways in trickling finger sump at a smolt plant (Hatchery)

HEALTHY SALMON SURVIVE AND GROW FASTER
SalMar at Finnsnes in Norway started testing 4 pcs ALPHA 4-ways ultrasound system in the trickling finger sump in their juvenile fishery in 2020.
The result was surprising and 100% clear; ultrasound is great for the fish welfare. They observe that after only few weeks…
there ware no more algae in the jellies. That means the salmon jellies was totally clean!
That's why SalMar again in 2021 invested in this great system and  purchase  another 8 ALPHA 4-ways transducers.

Test Results/Case made by Fresh By Design


Test Results/Case made by Fresh By Design

Murray Darling Fisheries – Wagga Wagga, NSW
ALGAEFREE model ALPHA 2-ways Ultrasound units are used to reduce algae growth and cage fouling in a freshwater grow-out ponds
Studies


We've seen strong results from a recent trial using the ALG AEFREE model ALPHA 2-ways  ALGAEFREE  Ultrasound 
to reduce algae growth and cage fouling in a freshwater grow-out pond located in the Riverina, Australia
During the previous season these cages needed cleaning every 2-3 days to maintain water flow and oxygen
levels in the cages. After cleaning each cage the fish would stop feeding for a full day afterwards.
This continual cleaning was contributing to increased labour costs and reduced fish growth.
This season an Algaefree Ultrasound unit was installed in the pond. The cages remained clean for 3 months and were not cleaned once.
The clean cages resulted in reduced labour and  increased fish growth with a shorter grow out time.
To validate the performance of the Algaefree Ultrasound the unit was switched off after running for 3 months.
10 days later the cages were completely blocked due to fouling and cleaning was required.
A Single ALPHA 2-Ways Ultrasound unit was used for the trial.
Test Results/Case made by Fresh By Design

Trinity Bay Barramundi – Cairns, QLD
Saltwater Cages
Test by our Australian dealer Fresh By Design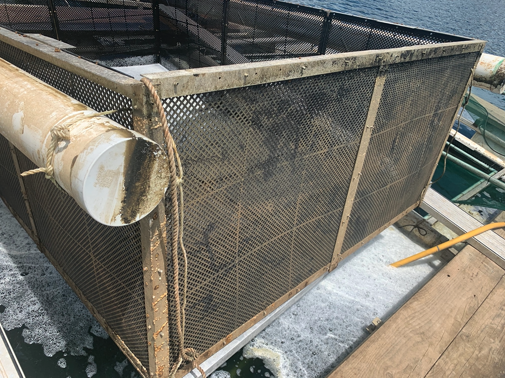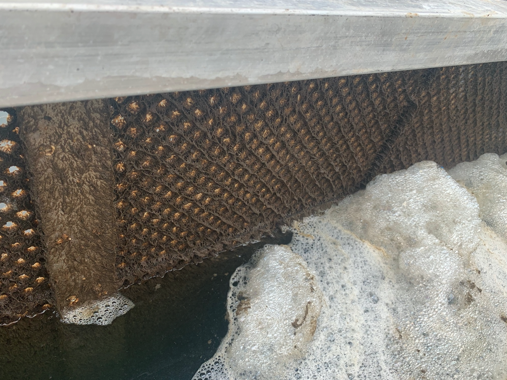 Result after 4 week with ALPHA 2-ways.                                           1 week after ALPHA 4-ways was turned off         


Australian Bay Lobster
Tweed Vally Wasy, Chinderah NSW AUSTRALIA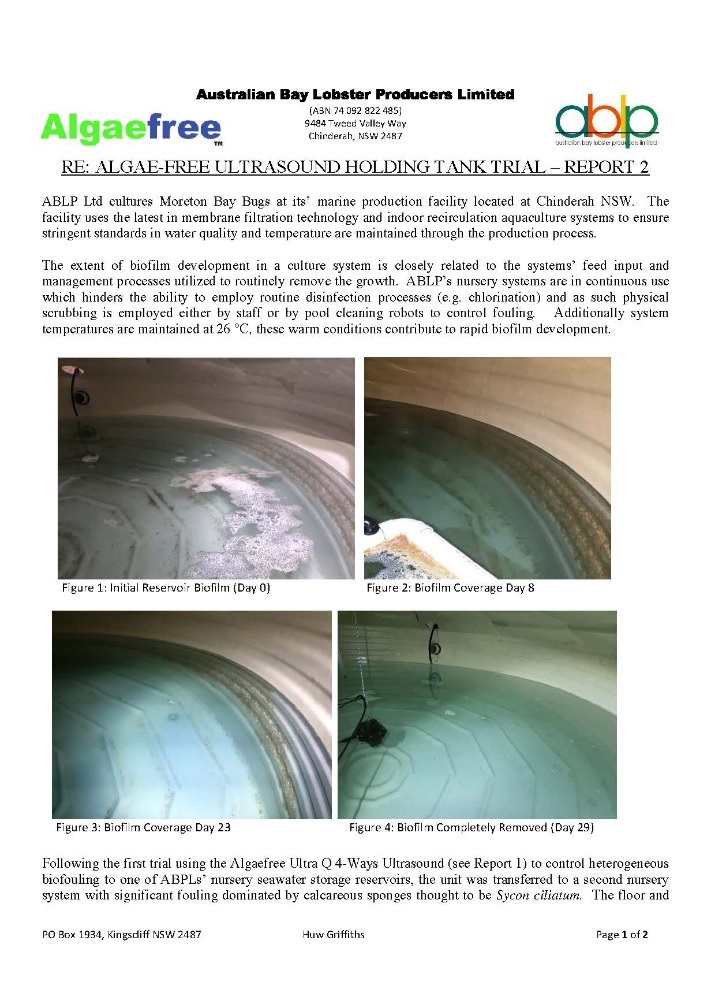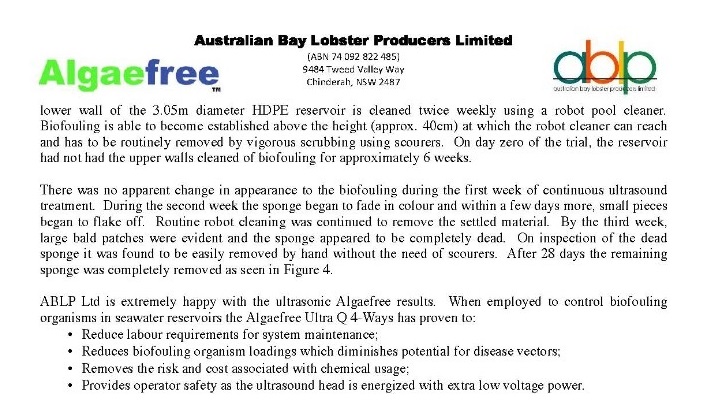 ALPHA RESULT IN FONTAIN
Our first ALGAEFREE test in Fish net in Norway 2008




ALGAEFREE MARINE AND BOAT  HULL SYSTEM
Boat Magazines who have tested our products give ALGAEFREE TOP SCORE
SURPRISINGLY GOOD RESULTS

INCREDIBLY EFFECTIVE



ZERO GROWTH

END OF GROWTH AND BARNACLE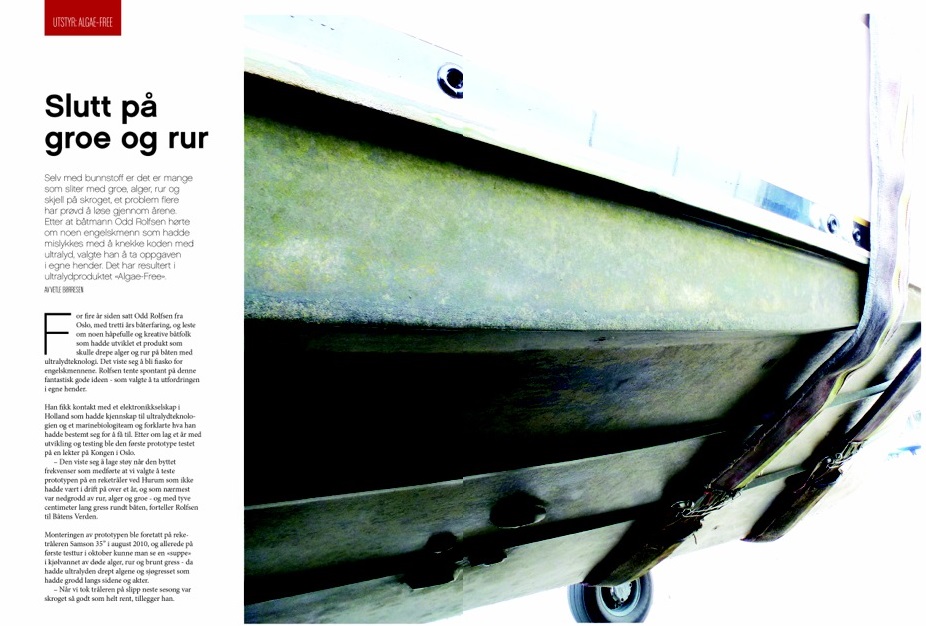 ALGAEFREE UPGRADED ULTRASOUND SYSTEM

See 

5 ALGAEFREE test videos on