GO 100% GREEN AND SUSTANABLE!
NO MORE CHEMICALS

The new 2022 ALPHA MARINE generation for recreational and working boats will be lounged in few weeks.
The most sophisticated ultrasound system for boats the world have ever seen.
Some of the worlds best Boat Brands who have tested and give ALGAEFREE TOP SCORE


ALPHA MARINE for all size of boats. yachts, sail boats and working boats.

ALGAEFREE have been on the recreational marked since 2006 and has become a concept.
14 years experience is your warranty.
Boat Magazines who have tested our products give ALGAEFREE TOP SCORE
SURPRISINGLY GOOD RESULTS

INCREDIBLY EFFECTIVE



ZERO GROWTH

END OF GROWTH AND BARNACLE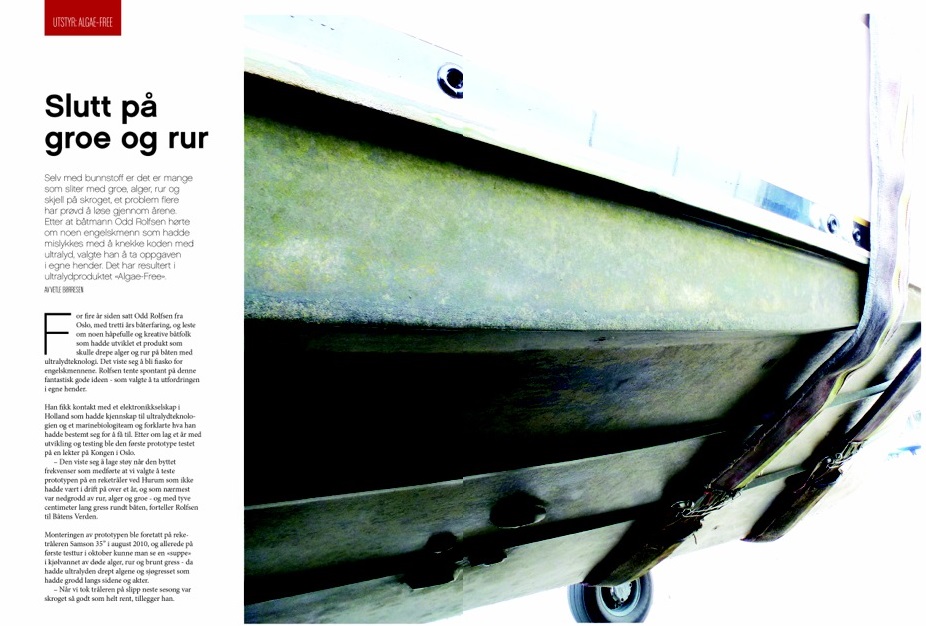 ALGAEFREE UPGRADED ULTRASOUND SYSTEM

See

5 ALGAEFREE test videos on
WHY  ULTRASOUND?
The reason why antifouling painting didn't work anymore, is because the government are banding this heavy pollution. 
Few drops of copper are not enough to kill biofilm, bacteria's, barnacle or coral worms. 
The reason for fouling problems is BIOFILM because it takes only 2 days after clean boat sets on the water
for biofilm to colonize to the hull and the problems have already started because biofilm is the food for barnacles. 
Another reason to go sustainable except for saving you lots of money and work, keep the same speed the whole season.
is because almost all Marina's banding cleaning if the boat has been antifouled because the heavy pollution. 

BIOFILM IS THE CAUSE OF THE PROBLEM
Biofilm is a coating of bacteria and microbes, which develop, due to an interaction between the surface and micro-organisms.
Biofilm is an advanced community of micro-organisms (such as bacteria, fungi and viruses) which are wrapped in a self-generated, protective slime. Micro-organisms prefer a life of biofilm. We find biofilms everywhere in nature, where there is moisture and nourishment, indeed on the mucous membranes and other surfaces in the body
How ultrasound works
The ultrasonic sound waves emitted by the hull or structure create microscopic cavitation bubbles environment. These bubbles cause a very unique environment close to the hull or structure, the tiny bubbles burst, split single-cell micro-organisms such as algae sidewall. This cavitation has a cleaning action helps to maintain the benefits of hull cleaning. The initial removal of algae growth inhibition food chain barnacles and other marine life feeds algae, efficiently generating an environment habitable by the algae and barnacles grow further.
ALPHA MARINE SYSTEM is a one time low cost investment designed to reduce the number of dry dockings needed over the years. The unit is extremely durable and adaptable so that it can be positioned in any location on your boat where you have the algae problems to ensure the best results. In this way your boats hull remains clean and always looking well maintained and your boat will keep its speed and fuel efficiency year after year! On top of all of this H2O MARINE is 100% maintenance free!
USAGE
The electronics is built into the transducer housing with water proof control box. The transducer is glued on to the bottom of the inside of the boats hull and no drilling is required. MARINE units are delivered with automatic DC 12/24volt build in switch. Indicator lights for each transducer on the control box ensures each unit is functioning normally. The number of transducers needed depends on the length of the boat as each unit will cover 8 square meters of boat hull. All transducers come with 10 meter cable.
1  A one time investment!
2  Kills existing barnacles and shells over time!
3  Prevent new barnacle and shell growth!
4  Achieve massive cost savings to your maintenance budget year after year!
5  Model MARINE is useful wherever there is fouling problems!
6  Installation with and without dry docking!
7  Consistent travel speeds between dockings!
8  No more fouling problems with the cooling systems!
9  Tested for 4 years with amazing results!
10 Electronics work year after year!
11 Cheapest way to antifouling- ever!
12 Save on downtime year after year!
13 Easy to install!
14 No maintenance!
15 The system is flexible!
16 Model ALPHA MARINE is 100% environmentally friendly!
17 THIS system will NOT effect other electronics onboard the ship.
18 TOP USA quality!
19 NO drilling!
20 IT WORKS!
Uses and Applications
Running Gear

Thrusters

Stern Drives

Rudder

Propeller

Keel

Sterndrive

IPS Drives

Sail Drives

Cooling systems

Sea Water Strainers

Sea Water Piping

Fresh Water Piping

Algal Control in;

Bodies of water

Storage Tanks

and more

Chiller Tower Water Systems

Fresh and Seawater Pumps

Heat Exchangers

and much more.
For more information, prices and offers, please contact us and we would be happy to assist you further.